The Story
When something is "done proper" it's done in the same style of its origin – it pays homage to its roots without cutting corners. Over ten years ago, we set out to produce wines that were Rhone in character while showcasing the uniqueness of the Walla Walla Valley and our 6-acre estate vineyard with as much integrity as possible. From day one we have aligned ourselves with the land, farmers, and winemaking styles that are most in tune with this philosophy and approach. We have never strayed from this core mission. In the spring of 2007, the cherries were replaced with Syrah vines and the Proper journey began.
Today, our goal is to continue to create wines that showcase the authentic taste of The Rocks District in the Walla Walla Valley. Since all winemaking starts in the vineyard, we let the grapes guide us throughout the growing season and upon harvest, only use native yeasts in our fermentation process. At the conclusion of each vintage, we are left with a beautiful and savory Estate Syrah as well as a bold and complex Reserve Estate Syrah for all to enjoy.
The Proper Family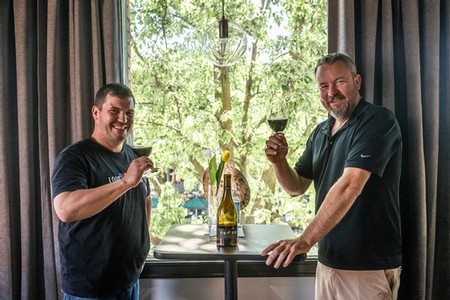 Sean Boyd joined the Proper family in 2010, when he took on the role of winemaker and oversaw the label's first vintages. Sean is also the owner and winemaker at Rotie Cellars, a Walla Walla winery specializing in French-style Rhône Valley blends, which he founded in 2007. Before starting in the wine business in the early 2000s, Sean received a degree in geology and spent 10 years working in gas and oil exploration.
The rest of the Proper team are a close-knit family - alongside Sean, we have winemaker Kevin Masterman and Anne Wilcox who runs the Proper Wine Club. We think the great thing about wine is the way it brings people together in proximity, conversation and shared experience. We hope to share in this experience with you and share a glass soon
The Founders of Proper Wines
In 2005, Coloradans Conor McCluskey and David Houle partnered together with the vision of pursuing niche business ventures and found a passion for starting a winery. Several years later, Connor and David would be joined by close friends Kevin Dibble, Billy Adams and David Kunstle. In 2011, the Proper Wines brand was born with the release of the first vintage of small batch production Estate Syrah.
In January of 2018, Proper Wines merged with Rotie Cellars to become a strong force within The Rocks District of the Walla Walla Valley. Conor, David Houle, Kevin, Billy, David Kunstle and their families have created a standard of excellence that the Rotie family looks forward to partnering with and continuing for years to come.