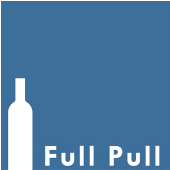 Full Pull :: Give Me My Propers When You Get Home
(The following are exerpts from Full Pull's 10/1/14 offering of Proper's 2012 Estate Syrah)
It's Sean Boyd from Rotie Cellars who is behind this wine. A notorious Rhone freak and lover of earthy, ethereal Syrahs, Sean has crafted a crystalline expression of funky Walla Walla Rocks terroir that is rare to see outside the domains of Cayuse and Reynvaan. And of course, unlike Cayuse and Reynvaan, this Syrah is actually available without a multi-year stay on a waiting list! Someday I'm sure this wine will command prices commensurate with the best Syrahs in the state, but for now, it remains a fine value for lovers of funky rocks Syrah.
The nose contains lovely streaks of pure marionberry and boysenberry fruit, but you're not here to hear about fruit, are you? Okay, so the savories (and they are legion): there's a great brackish marine kelpy umami note. There is a whole host of briny green olives. There is a full plate of smoky salumi. It's a funky, smoky, earthy nose, lifted by notes of wild flowers and herbs to keep things fresh. Just lovely. So alluring. The palate continues the mix of rich fruit and naughty savories, all on a pillowy silky frame that hits the back of your throat before you realize what's happened. There's nothing else to do but take another sniff, take another sip.
This remains one of the most exciting new projects coming out of Washington these days...
Paul Zitarelli
Full Pull